IMPORTANT INFORMATION REGARDING THE VETERINARY TECHNICIAN NATIONAL EXAMINATION (VTNE)
YOU WILL NEED TO WRITE THIS EXAMINATION IF YOU WISH TO:
be a member of the BCVTA

  

and thus be able to:

obtain registered VT (RVT) status in BC
obtain reciprocity with other Canadian AHT/VT associations

work in a province other than BC any time in the future
work in many of the states of the US
BC, Alberta, Saskatchewan, Manitoba, Ontario and the Maritime provinces along with more than 40 states in the US, use this examination as a requirement of registration/membership.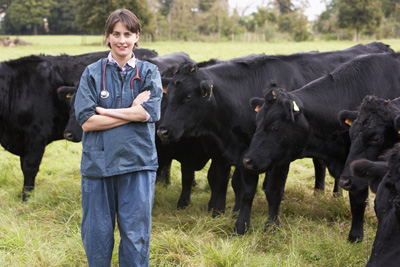 WHO CAN WRITE?
A graduating student or a graduate of an accredited AHT/VT/ACT program (minimum 2 years).  
HOW TO REGISTER?
Candidates register for the exam directly on the AAVSB (American Association of Veterinary State Boards) website www.aavsb.org
HOW MUCH?
$330 in US Funds payable to AAVSB at the time of registration.  Credit card is the only payment method accepted.
EXAMINATION DATES
Summer Window:

  

July 15 – August 15

 
Deadline for Applications:  June 15 (registration opens April 15)
Fall Window:

  

November 15 – December 15
Deadline for Applications:  October 15 (registration opens August 15)
Winter Window:

  

March 15 – April 15
Deadline for Applications:  February 15 (registration opens December 15)
EXAMINATION LOCATIONS
OR
EXAMINATION SET-UP
The examination comprises of 150 multiple-choice questions covering all aspects of veterinary technology.  The candidate is allowed three (3) hours to complete the examination.  This examination is designed to test an ENTRY LEVEL (New Graduate) TECHNOLOGIST.
RESULTS
The candidate will receive a provisional PASS or FAIL immediately after writing the exam.  Official results will be available approximately 4 weeks later from your AAVSB account.  Results are accessible for 1 yr after you write the exam.  
REWRITES
If unsuccessful on the first try, the candidate is allowed two (2) rewrites.  Rewrites will only occur in the next examination window.
STUDY GUIDES 
Reference guides are available to assist you in preparing for the VTNE.
Review Questions and Answers for Veterinary Technicians, 6th Edition, Prendergast.

  

ISBN #978-0-323-31695-8.

  

This text may be ordered through the Thompson Rivers University bookstore at 250-371-5576.
Online practice test is available for a fee, on the AAVSB website.
List of other reference texts is available on the AAVSB website.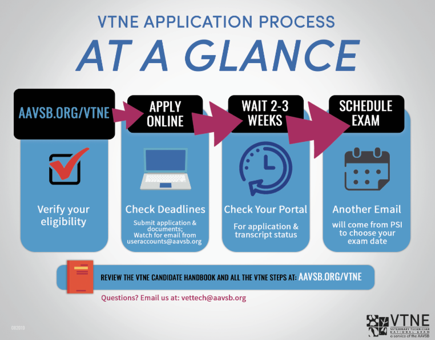 CONTACT PERSON
Sonia Walczak, RVT
c/o Thompson Rivers University
Animal Health Dept/ Veterinary Technology Program
805 TRU Way
Kamloops, BC  V2C 0C8
Phone: (250) 377-6079
Fax: (250) 828-5194
Email: ac.urtnull@kazclaws