November Newsletter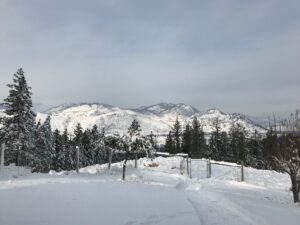 View from the Executive Directors Chair
I can't believe that 3 months have passed! I want to thank everyone for all of your patience and support as I have been figuring out this role, especially with the conference! What an amazing turnout and participation, from "staying alive" with Toni Laoutaris RVT to frustrating origami with Dr. Jayne Takahashi, you were all such good sports!  I hope that you all geeked out as much as I did with the CPR wheel!
I have also had the pleasure of registering the next group of students. We have students from TRU, Douglas and we also have some taking the Penn State online course! This is great as they graduate and enter the work force we are steps closer to seeing our goal of a RVT in every animal care setting realized!
It was great to see everyone involved in RVT month, I hope that you celebrated each other and the profession. Thank you to all who took part in the facebook contests!
I recently sent out an email asking for feedback on creating a "lifetime membership", it was great to see the response and the feedback has been awesome. Keep it coming as I plan to compile it all and then resend it out for final feedback in the new year, as we will be voting on this at the Spring Conference (….hint,hint….start planning for April, let me know if you have suggestions for speakers!!)
As well as lifetime members, I have had requests for RVTs who do locum work…..are there any of you out there? If so, please send me an email and I will put you in touch with potential employers.
And speaking of employers, I will be sending out a survey based on the question "How do we retain our RVTs?" Employers have been asking why are we losing techs, what can we do to keep or attract more…this is your time to speak up! Please, when you receive the survey take the time to fill it out (I promise to keep it short!)
Finally, I know that this seems early to mention, but our membership renewal will be coming up in the new year. For those of you that were unable to attend the meeting during the conference break, there will be an increase this year. Annual renewal will be $110, due April 30th, 2018 and payment can be made by credit card on the website or we can accept an e-transfer. A reminder to ensure that your CE is up to date, if you are unsure and cannot access your online profile, let me know (this is one of the web design projects we are working on!)
Have a safe, fun and fulfilling winter….hope to see you all in the spring!
Denise
————————————————————————————————————————————–
Presidents Address November 2017
The BCVTA Board of Directors has been working hard since our last newsletter.
We have completed a BoD job scope, code of conduct and signature of understanding, worked on updating our bylaws for discussion at the spring conference, uploaded archived BCVTA/AHTA of BC information, processed taxes, attended provincial and national meetings for RVT's, mailed out Vet Tech Month kits, completed a CE audit, put on a fall conference in Vancouver and had a face to face strategic planning day, just to name a few things.
At the strategic planning meeting your BCVTA Board of Directors created a mission, vision, strategic plan statement and strategic pillars.
Mission – We are leaders and advocates for professional animal health care, helping to raise veterinary standards for the protection of the public and the animals of British Columbia.
Vision – Gold Standard of Animal Care
Our vision is for every animal care facility in British Columbia to employ a Registered Veterinary Technologist.  We partner in the Veterinary health care industry to deliver the gold standard of care.
Strategic statement – the BCVTA acting with integrity, serves to educate and advocate for our members, to advance the profession of Veterinary Technology
Strategic pillars: Educate, Advocate and Advance
We are excited to be advancing the awareness of the Veterinary Technology Profession with the rest of our Nation. Please see our fall general meeting minutes for more details on what your BCVTA Board has been up to.
         Our Amazing Members!
—————————————————————————————————————————————————-
Industry News
Companion Animals:
Fact-based pet food messaging appeals to millennials. While the largest pet-owning group in the United States, the millennial generation, may be highly resistant to pet food marketing messages, that doesn't mean dog and cat food companies shouldn't use fact-based promotion of their products, according to Bob Wheatley, founder and CEO of Emergent, a brand strategy firm. https://www.petfoodindustry.com/articles/6698-fact-based-pet-food-messaging-appeals-to-millennials?v=preview
The state of global pet care: Trends and growth opportunities. Euromonitor International presented "The State of Global Pet Care: Trends and Growth Opportunities" at PIJAC Canada's National Pet Industry Trade Show in September 2017. The industry has also grown a healthy 3% on average over the past five years, adding $14 billion in incremental growth. http://blog.euromonitor.com/2017/09/state-global-pet-care-trends.html
Retailers report that more cat owners are open to the idea of giving their pets a health boost with supplements. http://www.petproductnews.com/October-2017/Focus-on-Wellness/
And lastly….
Ikea has launched a new furniture collection just for your pets. Even dogs and cats need to relax in style. Ikea has just dropped a new collection designed exclusively for pets. The new Lurvig collection, which means "hairy" in Swedish, made its pilot launch in five countries — Japan, France, Canada, U.S and Portugal (Algarve) at the start of October