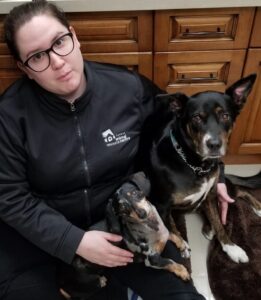 President– Christa Charbonneau, RVT
Christa began working in the vet industry over ten years ago and graduated from the TRU program in 2014. Her interest in working with animals started in an exotic practice and she began her career as an RVT in a small animal practice. Just over a year after graduating, she found her real passion for working in shelter medicine, helping thousands of animals find loving homes. Recently she has made the transition into a new role in regulatory compliance at AVP and is looking forward to exploring a whole new area of the industry. Christa currently resides in the Fraser Valley with her wiener baby Shotsy and when she's not working you'll find her swimming or hanging out with family.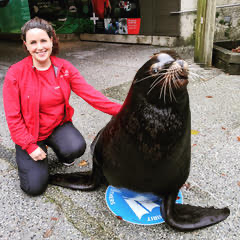 Vice President – Gabrielle Beer, RVT
Gabrielle started working in the veterinary industry as an assistant in 2011 and graduated from Thompson Rivers University as an RVT in 2014. She has worked in specialty veterinary care, small animal and exotics general practice, and with aquatic and marine mammals since joining the Vancouver Aquarium and their Marine Mammal Rescue Centre in 2017. Gabrielle worked previously as a photojournalist and continues to take on select photography projects throughout the year. Outside of work, she enjoys spending time with her husband and their very busy toddler and her furred and gilled family.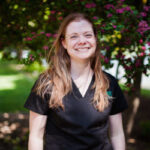 Treasurer – Leanne Hillis-Schmidt, RVT
Leanne graduated from Lakeland college in 2004 and has been working in mixed and small animal practice as well as on dairy farms throughout the coast and now the Okanagan. While is has found a wonderful team in a small animal practice, she does still milk cows occasionally. Her passions center around nursing care and behaviour medicine. She is currently Fear Free level 1 certified and is also Silver Certified in Low Stress Handling. When not at work, she is surrounded by her family of 3 kids, a husband, 2 corgis (Darla and Dottie), and a house rabbit named Boomer.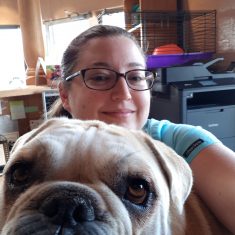 Secretary – Kim Holbrow, RVT
Kim graduated as an RVT from TRU in 2008. She works most of the time in a small animal practice, but locums all over the Fraser Valley and loves emergency medicine and critical care. Kim has a couple dogs, a couple cats and a couple horses. When she is not at work you can find her in her garden or reading.
RVTTC Representative – Tinille McKenzie-Wyatt RVT, VTS (ECC)
Tinille graduated from Thompson Rivers University in 1996 when it was called the University College of the Cariboo. After graduation, Tinille completed a 1-year internship program at the Animal Medical Center in New York City (small animals) and then a 1-month externship program in Littleton, Colorado where she worked with horses. Tinille worked in a couple of small animal general practices in Calgary, Alberta when she returned to Canada before finding her passion in emergency and critical care. In 2003 she received her Veterinary Technician Specialty in Emergency and Critical Care (VTS ECC). In 2006 she returned to Vancouver Island where she was born and raised and worked in small animal practice and an equine surgery practice. Currently, Tinille teaches full time for the TRU distance AHT program and locums in a few local clinics. She shares her home with her husband, 2 children and 1 cat recently adopted for the TRU AHT program.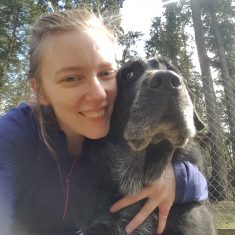 RVTTC Representative – Kalaya Donchi, RVT
Kalaya graduated from NAIT – Fairview in 2008. After spending 2 years in a general practice in Sherwood Park, AB, Kalaya missed the BC mountains and landed herself in the Okanagan in 2010. Kalaya currently splits her time working with an ophthalmologist and a mobile surgeon. She has a passion for anesthesia and analgesia. In her spare time, she can be found hiking or obsessing over her extensive plant collection. She shares her home with her 11-year-old Labrador Jack.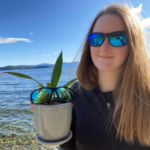 CVBC Liaison – Amanda Barker, RVT
'I always knew I wanted to work with animals' is a common theme among veterinary professionals when asked why they entered the profession. This doesn't hold true for me, however, and my true passion for veterinary medicine didn't begin to develop until 2008. I was in Calgary after receiving a scholarship for Engineering, and began to volunteer at the local shelter. I soon realized I was chasing the wrong profession.
My journey in veterinary medicine began at a vocational college, earning a Certificate as a Veterinary Office Assistant. During this time, I also gained employment at a small, local practice. The veterinarian at that clinic encouraged me to continue my education, and shortly after completing my certificate program I enrolled in a distance AHT program. In November 2012 I earned my Animal Health Technology Diploma, and a few months later successfully wrote the VTNE becoming a practising RVT in Alberta.
After several years, I held almost every position in that clinic – from kennel help to practice manager. In early 2015 I decided to look for a change. I had a craving to push my limits, to learn more, and gain new experiences. I entered the world of emergency and specialty medicine, and fell in love with the challenge and quick pace of the ER. I have had the opportunity to work with many specialties, including critical care, internal medicine, surgery, and anesthesia, which allowed me to further develop my skills as an RVT. In late 2019 I relocated to Vancouver Island, and have since taken on the roles of Lead RVT and Surgical Team Lead at a busy hospital in north Nanaimo.
I have been involved in many avenues of veterinary medicine, including wildlife rehabilitation, and extensive volunteer experience with the Alberta Veterinary Medical Association (ABVMA) and Alberta Veterinary Technologists Association (ABVTA), serving on ABVMA Council, ABVMA Registration Committee, ABVTA Board of Directors (President 2019), and ABVTA PR Committee.
When not in a clinic setting, I spend my time hiking or going backcountry camping in the mountains, traveling, and tending to my house plants. I'm a coffee addict, wine enthusiast, and love spending time with my cats, Kali Coconut and Cougar Puff.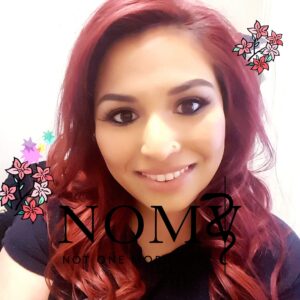 Director - Marina John, RVT
In her previous life, Marina worked as an ESL teacher in Seoul South Korea, before her love of medicine and animals drew her to a career in the veterinary field. She graduated from the University of Guelph Veterinary Technician program 10 years ago and has been a passionate advocate for RVT recognition ever since. Marina also has a Specialized Honors in a Bachelor of Science focusing on Science and Technology Studies. Since graduating from tech school she has received certifications in; Hands Free Radiology, Fear Free Animal Handling, and Veterinary Acupuncture and is working towards her dentistry certification. Marina has a varied background ranging from working as a farrowing tech at a large scale pig farm to working in lab sciences doing CT Scans and MRI's on animals. She also has experience working in veterinary emergency and referral centers, as well as veterinary ophthalmology clinics. Additionally, she currently teaches the Veterinary Assistant program at VIU's Nanaimo campus. Marina is also the Lead RVT and Production Manager for a local clinic focused on exotics, pocket pets and companion animal medicine. In her spare time; she loves making and eating home made pasta while binge watching SciFi shows with her husband. She has two Shiba inu's who are both the biggest blessing and the biggest bane of her life. If she had a superpower, it would be her uncanny ability to tuck something away for safe keeping and promptly forget where she put it.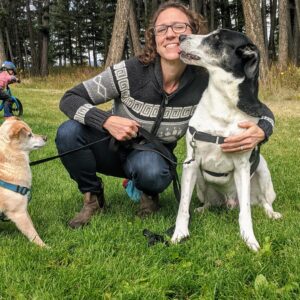 Executive Director – Amber Gregg, RVT
Amber graduated from the TRU veterinary technology program in 2007 and spent almost 8 years in mixed animal practice before gaining experience in Non-for-profit management. Amber joined the BCVTA Board of Directors as Vice-President in 2020, and served a one-year term as President in 2021 before being appointed the Executive Director position in 2022. Amber is grateful for everyone who made the BCVTA the strong and healthy organization it is today. She looks forward to working with the Board of Directors and members of the BCVTA to continue to advance veterinary technology.