Ongoing CE opportunities are self-paced for convenience! There are several options available for RVTs looking for CE that they can plan around their schedule.
See something missing? Send opportunities to us at executivedirector@bcvta.com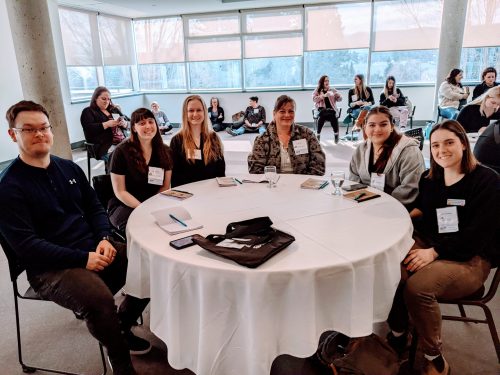 Uncharted Veterinary Community
Uncharted is a company built to serve. We create events based on the conversations our members need to have now. We facilitate open and honest discussions in our community and at our events so that our members can make actionable plans specific to their goals and practices. Then… we support those plans and promote accountability to getting them completed. In Uncharted, no one is a nameless face in a crowd. Our members are unique individuals with specialized goals we want to help them achieve. Get started with an Uncharted membership! https://unchartedvet.com/uvc-membership/
University of Guelph Correspondence Courses
These courses are offered on a continuous intake, work-at-your-own-pace basis. Participants will be mailed the complete study package including study material, quizzes and answer sheet to the address provided. Once you have completed all the quizzes, simply submit your answer sheet for scoring using the reply envelope included in your package. You will be notified of your score and if you are successful, a 'Certificate of Completion' will be mailed to the address provided. Courses include Pharmacology, Medical Emergencies, Advanced Anesthesia and Surgical Pain Management Techniques, Introduction to Small Animal Behaviour, Introduction to Small Animal Dentistry, and Canine and Feline Nutrition.  Vet Technologist On-line CE Courses
The Veterinary Cytology Schoolhouse
Understand cytology. Help more patients. Practical continuing education designed to catapult you from confused to confident. Become a Master of the Microscope from the comfort of your couch! Practical online courses in cytology and hematology for the veterinary professionals. All courses are self paced with a lifetime access. https://www.veterinarycytologyschoolhouse.com/courses
Vancouver Humane Society – Trauma-Informed & Culturally Safe Training Programs for the Animal Services Sector
Our free, complementary courses aim to help animal service workers and organization leaders learn how to implement trauma-informed and culturally safe approaches in their work, and how to mitigate the effects of burnout and compassion fatigue that are incredibly common in the animal protection
sector.


The goal of this training program is simple—to create safer, happier outcomes for animals, their guardians, and animal protection workers.
Background & History
In June 2021, VHS published a report called Helping People and Animals Together: Taking a Trauma-Informed, Culturally Safe Approach Towards Assisting Placed-at-Risk People with Addressing Animal Neglect. The learnings from this report are now an online training program, consisting of three complementary courses. The information shared in these trainings is rooted in the lived experiences of animal protection workers that were interviewed—including real-life scenarios they've been in and recommendations they highlighted.
The courses include videos, graphics, worksheets, reflection activities, interactive questions and quizzes, all intended to help you and your team brainstorm creative ways to shift practices and policies towards a more trauma-informed and culturally safe approach. https://vancouverhumanesociety.bc.ca/trauma-informed-training/
Vet Alliance
Become a Vet Alliance member and receive ongoing CE seminars, valuable partner discounts and rebates, as well as the support of the Vet Alliance team as you empower your practice. https://vetalliance.ca/learn-more/
Vet Bloom 
Originally, a home-grown, organic compilation of training, VetBloom has since yielded a compendium of comprehensive and current resources. Whether you are an individual looking to continue your education with online veterinary courses, or a practice in search of a systematic set of educational materials, VetBloom has developed and tested the training that you are after.
VETgirl
VETgirl is a subscription-based multimedia service offering RACE-approved, online continuing education for veterinary professionals. https://vetgirlontherun.com/
Vet Med Team offers a number of continuing education opportunities for veterinary team members. You can earn RACE and/or CVPM credits and participate at times convenient to your personal schedule. They even offer courses for FREE! http://www.vetmedteam.com/home.aspx
Veterinary Support Personnel Network is an interactive online community. As a member of VSPN, you'll have access to thousands of colleagues worldwide who want to help you and your patients – 24 hours a day. Membership to VSPN is FREE and includes access to comprehensive online CE taught by world-class instructors.  http://www.vspn.org/
Veterinary Team Training provides continuing education for veterinary teams on demand. There are pricing options available for everyone including all access subscriptions, single courses, and free courses. There is content for everyone on the team! https://education.vetteamtraining.com/
Worldwide Vets provides the opportunity to not only help animals in need across 13 projects worldwide, but also gain CE points whilst doing so! Provide your expertise and skills to the clinics and animals that need it most, and join one or more of our incredible projects. We provide opportunities including, but not limited to;
Performing daily surgeries on domestic animals including high case load spay and neuter clinics, as well as surgeries ranging from eneucleations to double amputations.
Working with African wildlife in the heart of the bush. Volunteers will directly work with a wildlife vet and assist all animals in need. This can range from removing snares and treating wounds in giraffes, to dehorning rhino or castrating lions.
High case load of equine medical care in Egypt – treating medical issues that you will likely not see in a typical practice. Operating a free clinic in an area where the horse's welfare is less than desired results in volunteers treating issues such as wounds, infections, colic, malnutrition and improper hoof care on a daily basis.
As a result of the illegal animal trade, deforestation and hunting, there are many wildlife species in need and they find this love and care in our sanctuaries. Volunteers work with the vet to complete health checks, surgeries, orphan feeding and learn the art of blow darting!
We offer projects for vet and vet nurse/tech, as well as to those with no prior education or experience whatsoever so friends and family are more than welcome to join. Our projects can count towards educational credits for those studying, as well as being RACE approved for those already licenced and practicing.
More information on the 13 projects that Worldwide Vets works with can be found on the website (www.worldwidevets.com/volunteer) and interest can be sent to kasey@worldwidevets.com