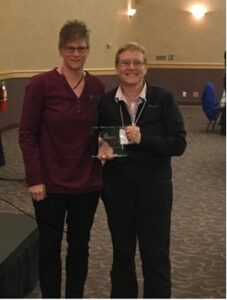 Registered Veterinary Technologist of the Year Award
We would like to acknowledge one of our members for the outstanding contribution to their profession and association.  The recipient is an active member of our association that  has demonstrated outstanding support and has contributed to the increased awareness of the  BC Veterinary Technologists Association and RVT's role in the animal health community and general public. 
Kirsten Wilson (left) was proud to present this year's award to Cathy Hall-Patch (right).  
Cathy has been an active member since the the 1980s.  She  was an instructor from 1990 at  the Animal Health Technology Program at then, Cariboo College, later University College of the Cariboo and now Thompson Rivers University when she retired this year.  Cathy constantly strives to increase her knowledge in all areas of veterinary medicine, through attending conferences, reading, taking courses, keeping current in this ever changing, evolving field, and being involved with organizations that promote the profession and support the profession. Cathy has participated in CAAT trips and she presented to our association regarding her experiences with Wildlife rehabilitation in Africa.
Thank you Cathy Hall-Patch for being a mentor and friend to our community!